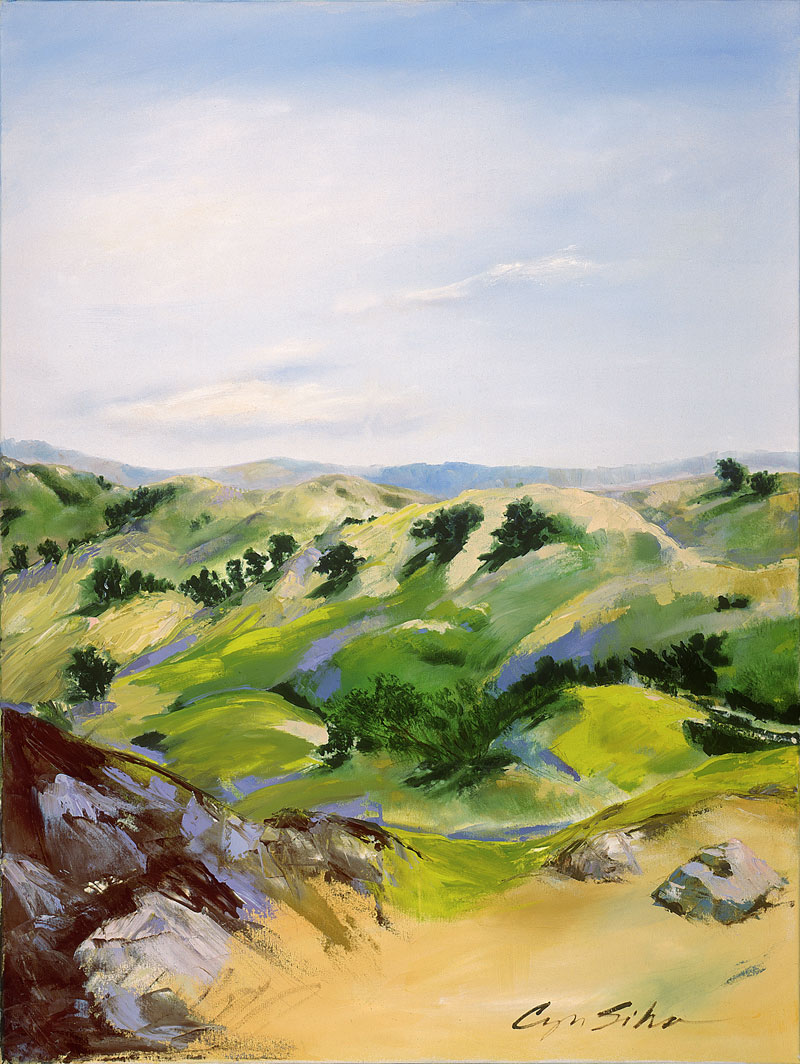 Poised in front of a blank canvas with a paintbrush in hand, Cyn Silva is bursting with inspiration to splash bold colors on oversized canvases to capture the beauty of nature. With a trained artist eye, she also showcases the art of the luxury real estate deal, recognizing that each home is not only a treasured asset but also a coveted piece of architecture and design.
A Bay Area native and highly regarded realtor of luxury and high end properties for Golden Gate Sotheby's International Realty, Silva has sold more than a half billion in real estate during the past 27 years painting watercolor renderings of homes while she worked her way up in real estate with her signature dedicated work ethic.
She has also studied art her entire life and continues to be inspired by her travels to Italy and France or can be seen hiking a trail at Mt. Diablo or strolling a Napa vineyard armed with her easel and paints. Educated in a variety of mediums including oil, acrylic, Gouache, pastel, pencil, charcoal and watercolor, Silva studied art theory under the world renowned D. De'Ovalle.
"It's rewarding when art meets real estate and I can look at a room and make it pleasing to the eye of prospective buyers knowing they are going to enjoy it for years to come" she says. But it is equally rewarding to create a painting and sell my art. It also gives me great pleasure to know they will be enjoying this passionate expression of mine."
Silva regularly exhibits her artwork at area art shows and has been featured in many East Bay estates. Several interior designers have also commissioned her work. Her artwork is also featured in many Silicon Valley corporate collections and adorns corporate showrooms, lobbies and conference centers including National Semiconductor, Alert Technologies, and RSF electronics.
Just as she can visualize colors, the layout, and the design of a room, she also excels at the art of negotiating a real estate sale and is known for bringing solutions to the table and deflating the challenges at hand. She is proud to be the one to answer her clients' calls every time.
Sensitive to the fine art of detail, Silva translates the focus and detailed process she takes to create one of her own creations into an admirable attention to detail when representing and preparing a client's home for sale. Her confidence exudes a calming effect on her clients. They feel assured of her abilities, and her background and knowledge convince them that she will appreciate and value and uniqueness of their prized asset.
"It's not just another home on the market," she adds. "Clients appreciate when someone has an interest in their home's unique beauty."
Silva puts a lot of effort into getting to know her clients and building a relationship. She calls the realtor/client relationship a personal one.
"I discover the unique qualities of their home and they get to know my knowledge of materials and art design. This relationship goes a long way to pave a smooth path and stress free process of selling a home," she adds.